Friends of Schedulefly
---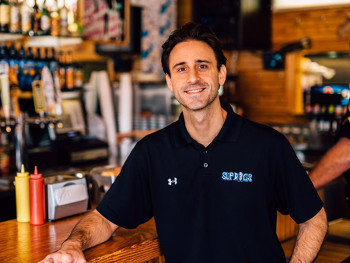 Bret Oliverio
Owner at Sup Dogs - Greenville and Chapel Hill NC

http://supdogs.com
The guys at Schedulefly clearly understand independent restaurants. I see it in their simple software, in their personable authentic style, and in the books and films and projects they work on that highlight unique places like Sup Dogs. We're not just Schedulefly's customer - we're a part of their story. ~ Bret Oliverio
Founded in Greenville, NC in 2008 by Derek Oliverio, Sup Dogs Restaurant is a one-of-a-kind restaurant concept focused on bringing friends, students, and families of all ages together and offering them extraordinary dining experiences. Taking our cues from our imaginative Founder—when you step into Sup Dogs, we aim to transform your day by serving the most creative specialty hot dogs, hand-smashed burgers, and the tastiest drinks in an energized restaurant environment.

Derek unexpectedly passed away in a house fire in late 2011. Shortly thereafter, Derek's brother, Bret Oliverio, left his career as a radio executive in Washington, DC to take over Derek's business in hopes of continuing the Sup Dogs dream. Bret jumped into the restaurant business with zero experience. He has been the Owner/Operator of Sup Dogs Restaurant since February 2012. In June 2014, Sup Dogs opened their second location in Chapel Hill, NC.

2017 has been a record breaking year at both locations for Sup Dogs Restaurant. Both locations are achieving double digit growth with an eye on potential expansion in the future. Each April, Sup Dogs puts on their signature community event, "Doggie Jams"— a 2,000+ person concert featuring rock bands and celebrity DJ's.



We're not just Schedulefly's customer - we're a part of their story.