Schedulefly is staff scheduling software for restaurants.
We built Schedulefly for restaurant people who value simple, reliable solutions that make life easier.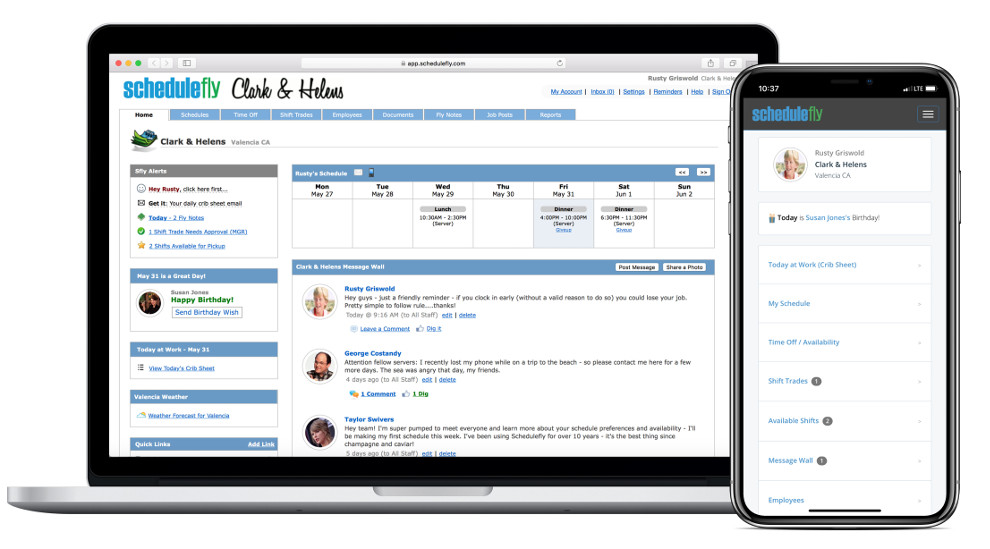 ---



More than 7,000 hospitality businesses love Schedulefly because...
Scheduling and communication is clean and easy.
Frantic phone calls and scheduling fire drills are eliminated.
Staff are accountable and schedule-aware at all times.
We are a small business focused on great service.
---
Latest from our Podcast
Episode 138: Trey Wilder shares his story...
Trey owns Treylor Park (Savannah, GA and Ponte Vedra Beach, FL) and Hitch (Savannah). We discussed a wide range of topics, from attention to detail, to what he learned not to do, keeping things simple, quality over quantity, branding, being a leader vs. a boss, and much more. Trey is a great guy who works his tail and off and loves what he does. Enjoy...

Listen to past episodes
---
What our customers are saying...



The guys at Schedulefly clearly understand independent restaurants. I see it in their simple software, in their personable authentic style, and in the books and films and projects they work on that highlight unique places like Sup Dogs. We're not just Schedulefly's customer - we're a part of their story.

Bret Oliverio @ Sup Dogs
Greenville, NC & Chapel Hill, NC

At Grassburger, we are very team-oriented and Schedulefly is part of our team! Their software is at the heart of our operations - the schedule which we all rely on, the day to day communication stream, special announcements, shift swapping, etc. If we have any questions, we can always rely on a friendly chat -- extremely refreshing in today's world! Thank you, Schedulefly!!!

Jess Kileen @ Grassburger
Durango, CO & Albuquerque, NM

What we value most as a business is authenticity. Being true to who you are and what you do, and doing what you say you're going to do. Not only does Schedulefly give us an indispensable product but they deeply care about what they do and how they do it, and that's a level of authenticity that makes us proud to be their customer.

Meherwan Irani @ Chai Pani Restaurant Group
Asheville, NC & Atlanta, GA