How we got started...Wes Aiken created the schedule on paper for a restaurant while in college in the 90's. He'd spend hours every Sunday piecing it together, and frustratingly watch it become irrelevant within minutes of posting it. But that was how restaurant schedules were handled back then. Meanwhile, Wes learned to write code and in 2007 he created a simple web-based solution to make scheduling and communication easier for restaurants.

What's happening now…We built Schedulefly to make life easier at independent restaurants. We keep our app simple, we take great care of our customers, and we're incredibly easy to do business with. Our customers love Schedulefly and tell other people about it, so we've grown primarily through word-of-mouth. We don't have sales people. We don't advertise. And we don't have investors. We just grow one restaurant at a time, and our customers love Schedulefly enough that 99% of them renew every month. Over 3,000 restaurants use Schedulefly today.

Thanks for checking out Schedulefly,
Wes, Tyler, Wil, Charles and Hank

p.s. check out our behind the curtain blog series to learn more about us and our business.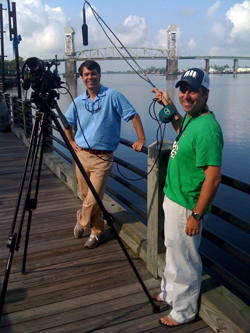 Wil and Wes filming the intro to our customer video on the Cape Fear River in Wilmington NC.